Game Description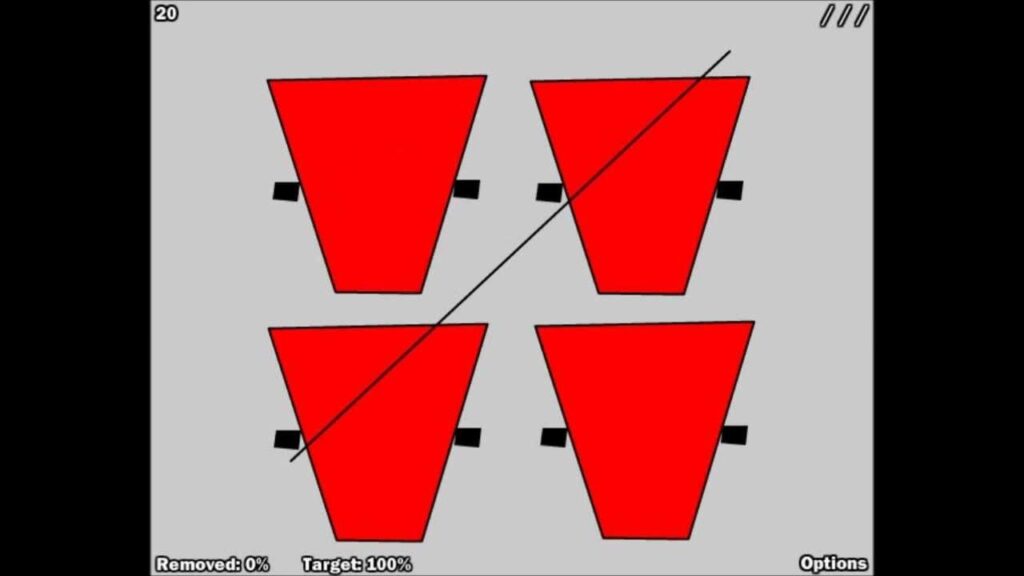 3 Slices is a challenging and brain-teasing puzzle game that will put your slicing skills to the test. Developed by Gaz Thomas, this game offers a unique gameplay experience where you must strategically slice shapes into equal parts using a limited number of cuts.
Game Controls
Mouse Controls
Left-click and Drag: Draw lines to slice shapes.
How to Play 3 Slices
3 Slices offers a simple yet engaging puzzle-solving experience:
Understand the Objective
Examine the initial shape presented to you. Your goal is to divide it into equal parts using a limited number of cuts.
Plan Your Cuts
Strategically plan where to make your cuts to achieve the desired equal parts. Remember, precision is key.
Use Your Slices Wisely
You have a limited number of slices to complete each level, so use them wisely to solve the puzzle.
Achieve Success
Successfully divide the shape into equal parts to advance to the next level. Challenge yourself to complete all levels with the fewest cuts possible.
Tips and Tricks
To excel in 3 Slices, consider these tips:
Plan Ahead: Before making a cut, carefully think about where and how to slice the shape to achieve equal parts.
Minimize Cuts: Aim to solve each level with as few cuts as possible to earn higher scores.
Visualize the Result: Mentally visualize how your cuts will divide the shape before actually making them.
Experiment: Don't be afraid to experiment with different cutting strategies to find the most efficient solution.
Game Developer
3 Slices was developed by Gaz Thomas, a game developer known for creating challenging and thought-provoking puzzle games that require creative problem-solving.
Game Platforms
You can enjoy 3 Slices on various platforms:
Web Browser: Play the game online directly in your web browser for free.
Mobile Devices: Download the game on iOS and Android devices to play on the go.
How to Play Unblocked
If you want to play 3 Slices unblocked, follow these steps:
Check Internet Filters: Ensure that your internet connection doesn't have strict content filters or restrictions that might block gaming websites.
Visit Official Gaming Websites: Go to official gaming websites or platforms that host unblocked versions of the game, such as educational gaming websites or puzzle game platforms.
Launch the Game: Once you've accessed the unblocked version, you can launch the game and start solving puzzles without any restrictions.
In summary, 3 Slices is a challenging and intellectually stimulating puzzle game that will test your spatial reasoning and problem-solving skills. With its simple controls and progressively difficult levels, it offers a satisfying puzzle-solving experience for players of all ages. Dive into the world of geometric slicing and put your brain to the test!