Game Description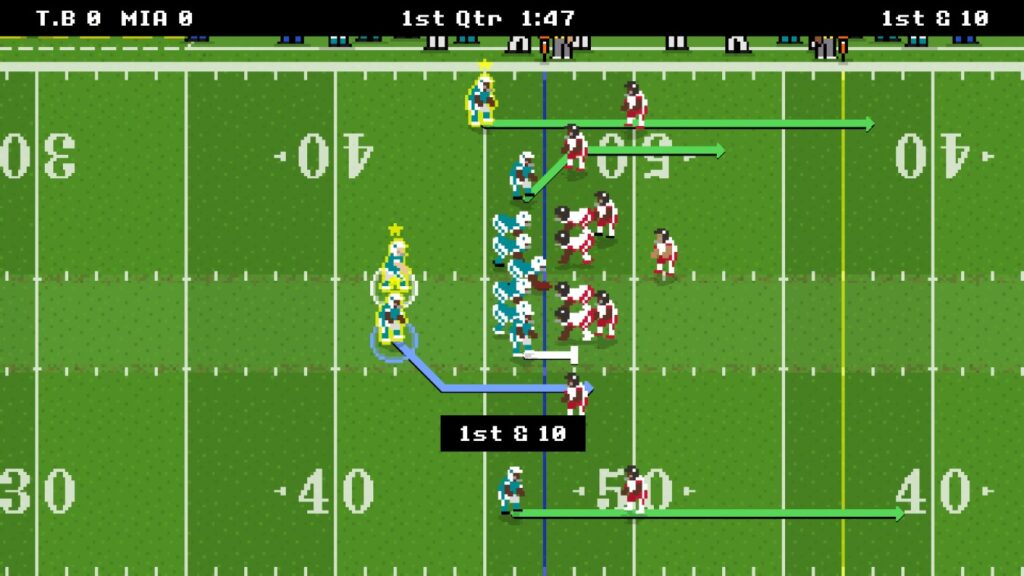 Retro Bowl Fan-made is a delightful homage to the original Retro Bowl, offering fans of the classic football simulation game an opportunity to enjoy a fan-created version of the game. While not an official release, this game faithfully captures the essence of Retro Bowl, allowing players to manage their football team, call plays, and lead their team to victory on the virtual gridiron. Dive into the world of retro-style football and see if you can become a championship-winning coach.
Game Controls
Keyboard Controls
Arrow Keys: Navigate menus and select options.
Spacebar: Confirm selections and progress in the game.
Mouse Controls (if supported)
Controls may vary depending on the platform you're playing on.
How to Play Retro Bowl Fan-made
Experience the nostalgia of Retro Bowl Fan-made with these steps:
Team Selection
Start by selecting your team from a list of available options, each with its own unique strengths and weaknesses.
Play Calling
On offense, call plays by selecting them from the playbook. Consider the situation and your team's strengths to make strategic choices.
Execute Plays
Control your players' movements and execute plays effectively. Pass, run, and make tackles as needed to gain an advantage.
Manage Your Team
Oversee team management tasks, such as signing players, handling contracts, and upgrading facilities.
Win Championships
Compete in the league and aim to win championships. Build a legacy as a successful football coach.
Tips and Tricks
To excel in Retro Bowl Fan-made, consider these strategic tips:
Balanced Play Calling: Mix up your offensive plays to keep the defense guessing. Don't be predictable.
Effective Passing: Master the art of passing to connect with receivers and gain yardage.
Solid Defense: On defense, focus on tackling and preventing the opposing team from scoring.
Team Management: Manage your team's finances, contracts, and upgrades wisely to build a winning franchise.
Game Strategy: Adapt your game strategy based on the strengths and weaknesses of your team and the situation on the field.
Game Developer
Retro Bowl Fan-made is a fan-created version inspired by the original Retro Bowl. It is not officially affiliated with the original game's developer.
Game Platforms
You can enjoy Retro Bowl Fan-made on various platforms:
Web Browser: Play the game online directly in your web browser.
Mobile Devices: Download the game on iOS and Android devices to play on the go.
How to Play Unblocked
To play Retro Bowl Fan-made unblocked, follow these steps:
Check School or Work Restrictions: Ensure that your school, workplace, or network doesn't have strict internet restrictions or content filters that might block gaming websites.
Visit Unofficial Game Websites: Since Retro Bowl Fan-made is a fan-created game, it may not be available on official game websites. Search for unofficial sources or communities where the game is shared.
Internet Connection: Make sure you have a stable internet connection to enjoy uninterrupted retro football action.
Embrace Nostalgia: Once you've accessed the unblocked version, relish the nostalgia of retro football gaming and become a championship-winning coach in Retro Bowl Fan-made without any interruptions.
In summary, Retro Bowl Fan-made pays tribute to the classic football simulation game and offers fans an opportunity to relive the retro-style football experience. Manage your team, call plays, and strive for championship glory in this fan-created homage to a beloved game. Enjoy the vintage football action!