Game Description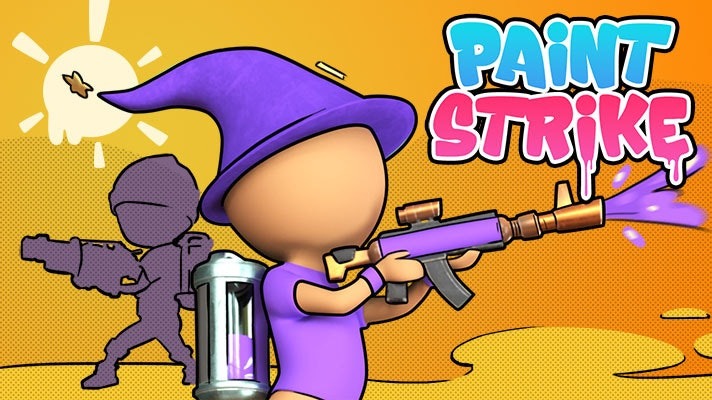 Immerse yourself in a vibrant world of color and competition with Paint Strike. This exhilarating game combines the excitement of paintball with strategic gameplay, inviting players to engage in thrilling battles and showcase their artistic prowess. Dive into a world where every splash of color counts, and victory is as much about strategy as it is about style.
Game Controls
Master the art of paintball warfare with these essential controls:
Movement: Use arrow keys or on-screen controls to navigate the paintball arena.
Shoot: Unleash colorful paint splatters upon your opponents using the mouse or touchscreen.
Reload: Ensure you're always ready for action by reloading your paintball gun strategically.
Special Abilities: Access unique paint-powered abilities to turn the tide of the colorful battle.
How to Play Paint Strike
Become a paintball maestro with these strategic tips:
Color Domination: Control key areas of the map by covering them in your team's paint.
Team Collaboration: Coordinate with teammates to execute strategic moves and dominate the opposing team.
Power-Ups: Seek out and utilize power-ups strategically to gain an advantage.
Precision Shots: Hone your aim for accurate and satisfying paintball shots.
Terrain Awareness: Be mindful of the terrain, using it to your advantage for both offense and defense.
Tips and Tricks
Conquer the colorful battlefield with these paintball pro tips:
Flanking Maneuvers: Surprise your opponents with strategic flanking maneuvers for maximum impact.
Colorful Distractions: Use paint splatters strategically to create distractions and confuse your enemies.
Map Control: Focus on controlling key areas of the map to dictate the flow of the game.
Adaptability: Be flexible and adapt your strategy based on the evolving dynamics of the paintball battlefield.
Team Communication: Effective communication with your team is crucial for coordinated victories.
Game Developer
Paint Strike is a creation of a passionate team of developers dedicated to delivering a unique and engaging paintball experience. Their commitment to creativity and innovation is evident in every splash of color and strategic paintball encounter.
Game Platforms
Dive into the colorful world of Paint Strike on the following platforms:
Web Browser: Experience the paintball excitement directly from your web browser for instant, vibrant action.
Mobile Devices: Take the colorful battles on the go with compatibility on both iOS and Android platforms.
How to Play Unblocked
Ensure uninterrupted paintball fun with these strategies:
VPN Access: Bypass restrictions and access Paint Strike seamlessly using a Virtual Private Network.
Proxy Servers: Conceal your location and ensure unblocked access with reliable proxy servers.
Browser Extensions: Install dedicated browser extensions designed for unblocking games, guaranteeing a seamless paintball experience.
Prepare for a paint-filled adventure, strategically splattering color across the battlefield in Paint Strike. Outmaneuver your opponents, control the canvas of the game, and emerge as the ultimate paintball artist.