Game Description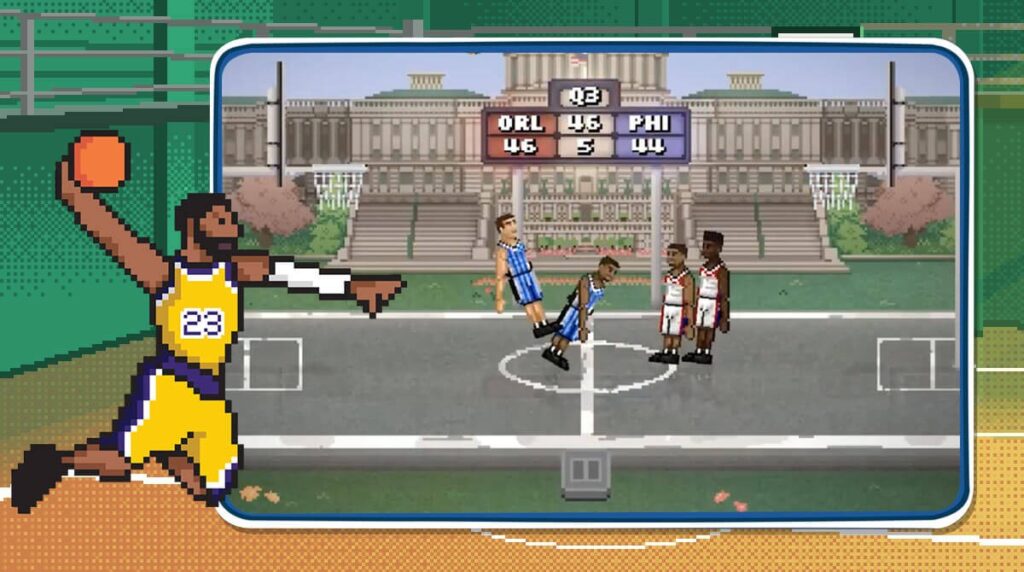 Bouncy Basketball is a fast-paced and addictively fun basketball game that puts your skills to the test in exciting one-on-one matches. Developed by Dreamon Studios, this game offers a unique blend of basketball action and bouncy physics that will keep you entertained for hours.
Game Controls
Mobile Devices (Touchscreen Controls)
Swipe Left/Right: Move your player.
Swipe Up: Jump.
Swipe Down: Slide or steal the ball.
Tap: Shoot the ball.
How to Play Bouncy Basketball
Bouncy Basketball offers an easy-to-learn gameplay experience:
Player Customization
Begin by customizing your player's appearance and outfit to stand out on the court.
Select Game Mode
Choose from various game modes, including Tournament, Arcade, and Multiplayer, each offering a different basketball challenge.
Engage in Matches
Jump into one-on-one basketball matches against opponents. Your goal is to outscore your opponent by making baskets.
Scoring Goals
Aim, shoot, and score goals to earn points. Master the art of shooting to become a scoring sensation.
Defensive Moves
Use defensive moves such as sliding and stealing the ball to thwart your opponent's scoring attempts.
Win and Unlock
Outscore your opponent to win matches and unlock new characters and customization items.
Tips and Tricks
To become a pro at Bouncy Basketball, consider these tips:
Master Shooting: Practice your shooting skills to hit those perfect shots.
Learn Defense: Timing your defensive moves is crucial. Use slides and steals to regain possession and block shots.
Customize Your Player: Personalize your player with different outfits and accessories to make a statement on the court.
Game Modes: Explore different game modes to challenge yourself and improve your skills.
Game Developer
Bouncy Basketball was developed by Dreamon Studios, a game development studio known for creating entertaining and engaging mobile games.
Game Platforms
You can enjoy Bouncy Basketball on various platforms:
Mobile Devices: Download the game on iOS and Android devices to play on the go.
How to Play Unblocked
If you want to play Bouncy Basketball unblocked, follow these steps:
Check Internet Filters: Ensure that your internet connection doesn't have strict content filters or restrictions that might block gaming websites.
Visit the Official App Store: Go to the official app store for your device (iOS App Store or Google Play Store) to access the unblocked version of the game.
Download and Install: Download and install the game from the official app store, ensuring that you have a stable internet connection.
Enjoy Uninterrupted Play: Once you've installed the game, you can enjoy the fast-paced basketball action without any restrictions.
In summary, Bouncy Basketball offers a thrilling and addictive basketball gaming experience. With its intuitive controls, various game modes, and customization options, it's a slam dunk for basketball enthusiasts looking for exciting mobile gameplay. Get ready to jump into the court and showcase your basketball skills!