Game Description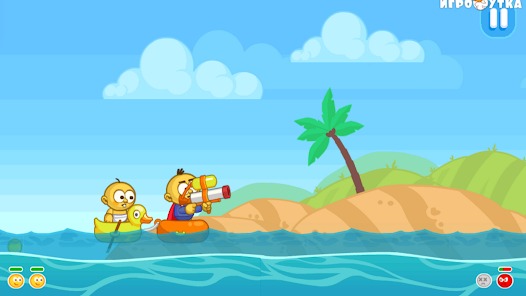 Raft Wars 2 is a fun and addictive online shooting game that combines strategy and humor. Developed by Martijn Kunst, this game continues the adventures of Simon and his brother as they defend their treasure against foes in epic water battles. Get ready for thrilling water fights and humorous challenges in this entertaining game.
Game Controls
Mouse Controls
Aim: Move the mouse cursor to aim.
Shoot: Left-click to fire your weapon.
How to Play Raft Wars 2
Join Simon and his brother on their treasure-hunting journey with these steps:
Set Up Your Raft
Start by choosing your character and customizing your raft.
Battle Your Opponents
Face off against various opponents who are also after your treasure. They will appear on floating rafts in the water.
Aim and Fire
Use your aiming skills to target your opponents. Click to fire your weapon and try to hit them before they hit you.
Defend Your Treasure
Protect your treasure chest by defeating all opponents in each level. The number of shots you have is limited, so aim carefully.
Advance Through Levels
As you progress, the challenges and opponents become more difficult. Defeat them to uncover the treasure's secrets.
Collect Coins
Collect coins dropped by defeated foes to purchase upgrades and power-ups.
Tips and Tricks
To become a Raft Wars champion, consider these tips:
Precise Aim: Take your time to aim accurately. Hitting your target with fewer shots can save you ammunition for tougher levels.
Upgrade Your Raft: Spend your coins wisely on raft upgrades, better weapons, and power-ups to enhance your chances of victory.
Anticipate Enemy Moves: Pay attention to your opponents' movements and anticipate their shots to dodge them.
Use Special Abilities: Utilize special abilities and power-ups strategically to gain the upper hand in battles.
Game Developer
Raft Wars 2 was developed by Martijn Kunst, a game developer known for creating engaging and humorous games.
Game Platforms
You can enjoy Raft Wars 2 on various platforms:
Web Browser: Play the game online directly in your web browser for free.
Mobile Devices: Download the game on iOS and Android devices to play on the go.
How to Play Unblocked
To play Raft Wars 2 unblocked, follow these steps:
Check School or Work Restrictions: Ensure that your school or workplace doesn't have strict internet restrictions or content filters that might block gaming websites.
Visit Official Game Websites: Go to the official website or gaming platforms associated with Raft Wars 2 to access the unblocked version of the game.
Internet Connection: Make sure you have a stable internet connection to enjoy uninterrupted water battles.
Embark on Raft Wars: Once you've accessed the unblocked version, you can dive into the world of treasure hunting, water fights, and comedic challenges without any restrictions.
In summary, Raft Wars 2 offers a delightful combination of strategy, humor, and water-based battles. With its simple controls and entertaining gameplay, it's a game that appeals to players of all ages. Join Simon and his brother as they defend their treasure in epic raft battles!