Game Description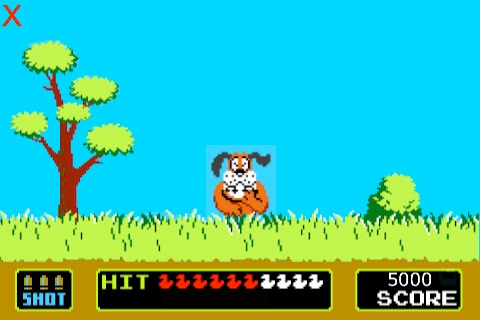 Duck Hunt is a classic and iconic shooting video game originally released by Nintendo. It gained popularity as one of the early light gun games and was bundled with the Nintendo Entertainment System (NES). In this timeless game, players take on the role of a hunter with the objective of shooting ducks as they fly across the screen. Duck Hunt offers a simple yet addictive gameplay experience that has left a lasting impression on gaming history.
Game Controls
NES Controls (Original)
Zapper Light Gun: Aim and shoot at ducks on the screen.
Modern Emulator Controls
Mouse: Move the cursor to aim.
Left Mouse Button: Shoot.
How to Play Duck Hunt
Experience the classic gameplay of Duck Hunt with these steps:
Prepare Your Zapper (Original) or Mouse (Emulator)
If you're playing on the original NES, set up your Zapper light gun. If you're using an emulator, ensure your mouse is ready.
Start the Game
Begin the game and wait for the round to start.
Aim and Shoot
Ducks will appear on the screen, flying in various patterns. Aim your Zapper or mouse cursor at the ducks and pull the trigger (click the left mouse button) to shoot.
Duck Behavior
Ducks will fly away when they hear the sound of the hunter's shots. Pay attention to their flight patterns and anticipate where they will appear next.
Limited Shots
You have a limited number of shots per round, so make each shot count.
Score Points
The objective is to score as many points as possible by shooting ducks. The game becomes progressively challenging with faster ducks and fewer misses allowed.
Dog Helper
Watch for the hunting dog, which retrieves fallen ducks. Its reactions can add to the game's humor.
Rounds and Levels
Continue playing rounds and advancing through levels to test your shooting skills.
Tips and Tricks
To become a skilled duck hunter in Duck Hunt, consider these tips:
Accuracy Is Key: Take your time to aim accurately, especially as the game becomes faster and more challenging.
Anticipate Duck Movements: Learn to anticipate the flight patterns of the ducks and shoot where they will be, not where they are.
Timing Matters: Wait for the right moment to shoot multiple ducks with a single shot.
Limited Shots: Be mindful of your remaining shots; you don't want to run out when a high-scoring duck appears.
Stay Calm: As the game gets faster, stay calm and focused to maintain accuracy.
Game Developer
Duck Hunt was developed by Nintendo, a renowned game developer responsible for many iconic games and consoles.
Game Platforms
Mobile Devices: Download the game on iOS and Android devices to play on the go.
How to Play Unblocked
To play Duck Hunt unblocked, follow these steps:
Emulators: Use NES emulators available for your computer or mobile device. Many emulators provide access to classic NES games like Duck Hunt.
Online Emulator Websites: Some websites offer NES emulators that allow you to play classic NES games directly in your web browser. Search for "NES emulator online" to find options.
Legal Considerations: Ensure that you are using emulators and ROMs (game files) from legitimate sources to comply with copyright laws.
Start Shooting: Once you've set up an emulator or found a suitable online platform, you can start shooting ducks in Duck Hunt just like in the classic days, reliving the nostalgia of this timeless game.
In summary, Duck Hunt is a beloved classic that has stood the test of time. Whether you're playing it on the original NES or through an emulator, it offers simple yet challenging gameplay that has entertained generations of gamers. Grab your Zapper or mouse, aim carefully, and see how many ducks you can shoot down!