Game Description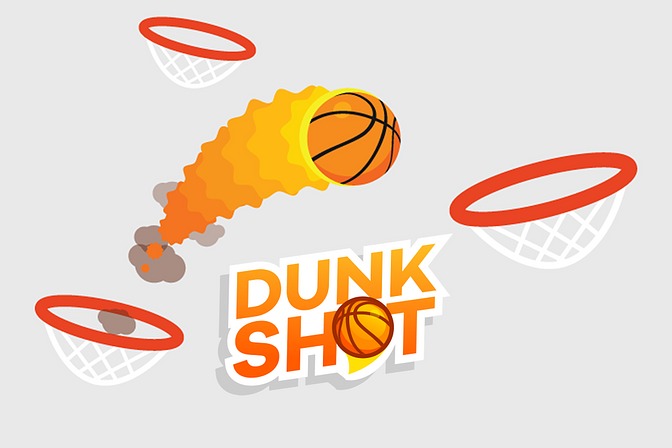 Dunk Shot is an addictive basketball-themed mobile game that challenges players to perfect their shooting skills and aim for the ultimate slam dunk. Developed by Ketchapp, this game is available on various platforms and offers a thrilling experience for both casual gamers and basketball enthusiasts.
Game Controls
Mobile Devices
Tap and Hold: To charge your shot.
Release: To release the ball and shoot.
Swipe Left or Right: To aim your shot.
How to Play Dunk Shot
Dunk Shot is easy to pick up, but mastering it requires precision and timing. Here's how to play:
Launching the Game: After installing Dunk Shot, launch the game on your mobile device.
Start Shooting: You'll start at the bottom of the screen, and a hoop will be positioned at various heights above. To make a shot, tap and hold on the screen to charge your shot.
Aiming: While holding, swipe left or right to adjust the direction of your shot. Position it perfectly to align with the hoop.
Release: Release your finger to shoot the ball towards the hoop. The longer you hold, the more powerful your shot will be.
Score Points: Successfully making a shot through the hoop earns you points. The game gets progressively challenging as the hoop moves higher and faster.
Keep Going: Continue shooting to set new high scores and unlock various skins for the ball.
Challenge Yourself: The game features endless gameplay, so challenge yourself to beat your own high score or compete with friends.
Tips and Tricks
To excel at Dunk Shot, consider these tips and tricks:
Practice Timing: Mastering the timing of your shots is key. Release the ball at the right moment to make accurate shots.
Focus on Precision: Pay attention to the hoop's position and aim for the center to increase your chances of success.
Collect Gems: Collecting gems during your gameplay allows you to unlock different ball skins, which can be a fun way to personalize your experience.
Stay Calm: The game can get fast-paced, but don't let that fluster you. Stay calm and focused to make better shots.
Compete with Friends: Challenge your friends to see who can achieve the highest score. Friendly competition can be a great motivator.
Game Developer
Dunk Shot was developed by Ketchapp, a well-known mobile game development company. Ketchapp is renowned for creating simple yet addictive games that have captured the hearts of mobile gamers worldwide.
Game Platforms
Dunk Shot is available on the following platforms:
iOS: You can download Dunk Shot from the Apple App Store.
Android: The game is available for Android devices on Google Play.
How to Play Unblocked
To play Dunk Shot unblocked, ensure that you have a stable internet connection and download the game from an official app store. Since the game is typically free to play, you can enjoy it without any restrictions once it's installed on your device.
In conclusion, Dunk Shot offers a thrilling basketball experience that is easy to pick up and play. With addictive gameplay, simple controls, and endless challenges, it's the perfect game to test your shooting skills and compete with friends for the highest score. So, grab your mobile device and start dunking!