Game Description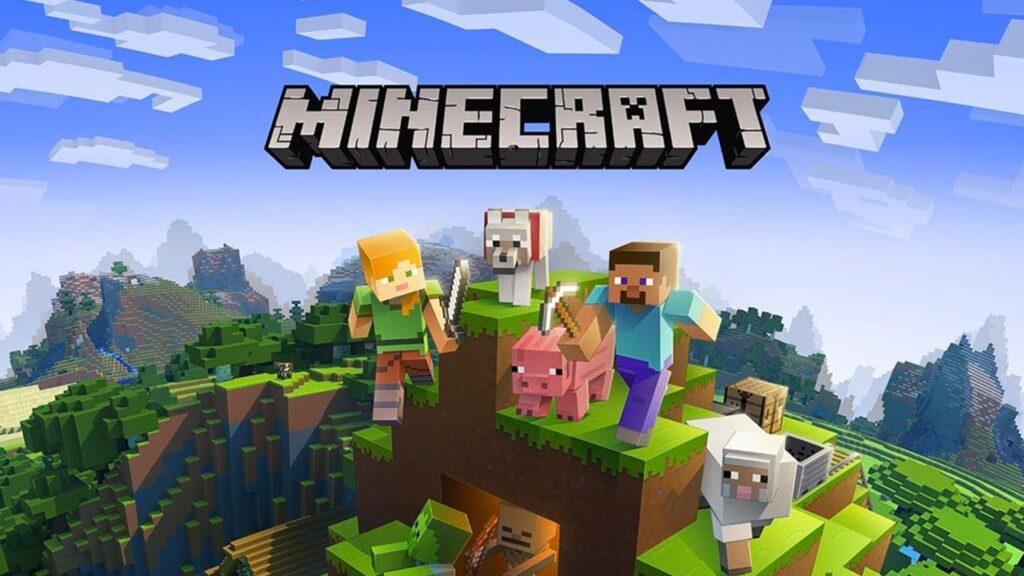 Minecraft is a sandbox video game that offers players the freedom to create, explore, and survive in a blocky, open-world environment. Developed by Mojang Studios (now part of Microsoft), this game has become a global phenomenon, allowing players to unleash their creativity, build structures, mine resources, and embark on exciting adventures in a pixelated universe.
Game Controls
PC (Keyboard and Mouse)
W, A, S, D: Move forward, left, backward, and right.
Spacebar: Jump.
Shift: Crouch and sneak.
Left Mouse Button: Mine blocks or attack.
Right Mouse Button: Use items or place blocks.
E: Open the inventory.
1-9: Select items in the hotbar.
F5: Toggle between first-person and third-person view.
F3: Display debug information (coordinates, entity count, etc.).
Console and Mobile (Controller or Touchscreen)
Controls may vary depending on the platform and version.
How to Play Minecraft
Embark on your Minecraft adventure with these steps:
Create or Join a World
Start by creating a new world or joining an existing one. You can choose between Survival mode (where you need to gather resources and survive) and Creative mode (unlimited resources and the ability to fly).
Gather Resources
In Survival mode, begin by punching trees to collect wood, which you can craft into tools and items. Mine other resources such as stone, coal, and iron to upgrade your gear.
Build and Explore
Use the resources you collect to build structures, create art, and explore the vast Minecraft world. There are caves, mountains, oceans, and hidden treasures to discover.
Survive and Thrive
In Survival mode, manage your hunger and health. Craft weapons, armor, and shelter to protect yourself from monsters that come out at night.
Set Goals and Challenges
Minecraft offers various goals and challenges. You can defeat the Ender Dragon, explore the Nether, or complete achievements to keep the game exciting.
Tips and Tricks
To excel in Minecraft, consider these tips:
Create Tools: Craft essential tools like pickaxes, shovels, and swords to make resource gathering and combat more efficient.
Build a Shelter: Construct a safe shelter before nightfall to avoid monsters. Torches and beds are essential for a secure night's rest.
Experiment with Crafting: Experiment with the crafting table to create advanced items and weapons.
Enchant and Upgrade: Use enchantment tables and anvil stations to enhance your gear and weapons.
Join Multiplayer Servers: Experience the game with friends by joining multiplayer servers or realms.
Game Developer
Minecraft was originally developed by Markus Persson and later acquired by Mojang Studios, a subsidiary of Microsoft.
Game Platforms
You can enjoy Minecraft on various platforms, including:
PC and Mac: Play the Java Edition on your computer.
Console: Available on Xbox, PlayStation, and Nintendo platforms.
Mobile: Play on iOS and Android devices.
VR: Experience Minecraft in virtual reality on compatible platforms.
How to Play Unblocked
To play Minecraft unblocked, follow these steps:
Check School or Work Restrictions: Ensure that your school, workplace, or network doesn't have strict internet restrictions or content filters that might block gaming websites or Minecraft servers.
Download the Official Game: Visit the official Minecraft website to purchase and download the game. It provides a safe and legitimate way to access Minecraft.
Use Minecraft Education Edition: Some schools and educational institutions use Minecraft Education Edition, which may have different access policies and restrictions. Check with your educational institution for details.
Play on Approved Servers: If you want to play on Minecraft servers, ensure they are approved and accessible within your network or institution.
In summary, Minecraft is an immersive and endlessly creative sandbox game that has captivated players of all ages worldwide. Whether you're building grand structures, exploring mysterious caves, or surviving the night, Minecraft offers limitless possibilities for creativity and adventure. So, craft your pickaxe, mine those blocks, and embark on your own unique journey in the blocky world of Minecraft!