Game Overview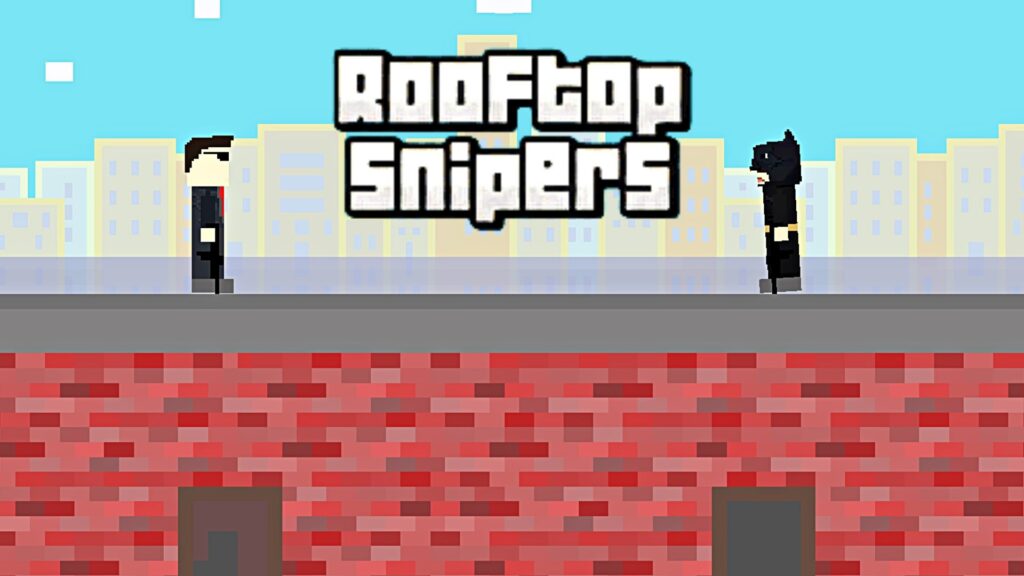 Rooftop Snipers is a zany and fast-paced shooting game that throws two players into the wild world of precarious rooftops. Your mission? Eliminate your opponent, either by sharpshooting them or sending them tumbling off the edge. With its simple yet addictively fun gameplay and wacky physics, Rooftop Snipers is the perfect choice for quick gaming sessions and lighthearted duels with friends.
Mastering the Controls
To become a true rooftop sharpshooter, mastering the game controls is essential. Each player has unique key assignments:
Player 1:
Player 2:
How to Play Rooftop Snipers
Here's how you can dive into exhilarating rooftop duels with Rooftop Snipers:
Access the Game: Rooftop Snipers can be found on various online gaming platforms. Ensure you're playing from a trusted source.
Character Selection: Kick things off by choosing your character. The game offers a delightful array of quirky and unconventional choices.
Pick Your Playground: Select a rooftop or level for your showdown. Each rooftop may feature unique hazards or quirks.
Challenge a Friend: Rooftop Snipers is designed for two players. Challenge a friend or take on an online opponent in thrilling rooftop duels.
Shoot and Leap: Utilize your designated keys to shoot at your adversary and leap to dodge incoming shots. Keep in mind that gravity influences your bullets, adding an extra layer of challenge.
Strategies and Wits: Beyond shooting, employ tactics like pushing your opponent off the roof or outsmarting them by evading their shots.
Victory in Sets: The game often unfolds in a best-of-three format, where the first player to claim two rounds is crowned the champion.
Pro Tips
To become a rooftop sniper extraordinaire, keep these tricks in mind:
Timing Matters: Precision timing of your shots and jumps can be the key to success.
Use the Environment: Make strategic use of elements on the rooftops. Hiding behind obstacles can be your saving grace.
Practice Pays Off: The more you play, the better you'll become at anticipating your opponent's moves and honing your aiming skills.
About the Developer
Rooftop Snipers is the brainchild of Michael Eichler, a game developer renowned for crafting a wide range of entertaining and humorous online games.
Supported Platforms
Download the game on iOS and Android devices to play on the go.
In Conclusion
Rooftop Snipers offers light-hearted and competitive fun for players seeking amusing duels in the lofty skies. Whether you're challenging a friend or going head-to-head against an online adversary, the game's quirky characters and unpredictable physics create a memorable gaming experience. So, grab your sniper rifle and brace yourself for rooftop mayhem!