Game Description: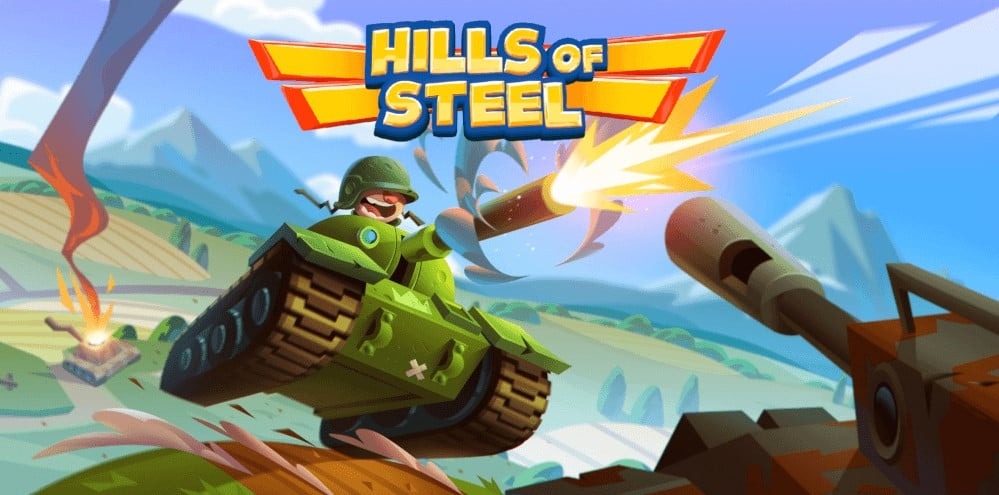 "Hills of Steel" is an exciting and addictive mobile game that combines tank battles with physics-based gameplay. In this game, players get to command their very own tank and engage in epic battles across various terrains. With a wide range of tanks to choose from and challenging opponents to conquer, "Hills of Steel" offers hours of entertainment and strategic fun.
Game Controls:
To master the game, you need to familiarize yourself with its intuitive controls:
Virtual Joystick: Use the virtual joystick on the screen to control your tank's movement. Push it in the desired direction to drive around.
Fire Button: Tap the fire button to unleash your tank's firepower on your enemies. Aim your shots carefully to maximize your damage.
Switch Weapons: If your tank is equipped with different weapons, you can switch between them by tapping the weapon icons on the screen.
How to Play:
Playing "Hills of Steel" is straightforward, but mastering it requires strategy and skill:
Tank Selection: Start by choosing a tank from the available options. Each tank has its unique strengths and weaknesses, so pick the one that suits your playstyle.
Battle Locations: The game features various terrains and battle locations. Select a location, and you'll be ready to engage in a battle.
Objective: Your objective is to defeat the enemy tanks and conquer the battlefield. You can do this by eliminating opponents and capturing strategic points.
Tank Upgrades: As you progress in the game, earn coins that you can use to upgrade your tank. Improve your tank's firepower, armor, and speed to gain an advantage.
Team Play: In certain game modes, you can team up with friends or other players. Coordinate your efforts to dominate the battlefield.
Campaign Mode: "Hills of Steel" offers a campaign mode with a series of challenging missions. Complete these missions to unlock new tanks and earn rewards.
Strategic Gameplay: Plan your moves carefully. Use cover, avoid enemy fire, and take strategic positions to outmaneuver your opponents.
Tips and Tricks:
Aim for the enemy tank's weak spots to deal more damage and increase your chances of victory.
Learn the characteristics of each tank, including its strengths and weaknesses, to make informed decisions during battles.
Use terrain to your advantage. Hills, ridges, and obstacles can be used as cover or for strategic positioning.
Complete daily missions and challenges to earn extra rewards and upgrade your tanks faster.
Be aware of your surroundings, including enemy tank positions and incoming enemy shots.
Game Developer:
"Hills of Steel" was developed by Superplus Games. The game developer is known for creating engaging and action-packed mobile games that provide players with exciting gaming experiences.
Game Platforms:
"Hills of Steel" is primarily available on mobile platforms, including both Android and iOS. You can download the game from the respective app stores and enjoy it on your smartphone or tablet.
How to Play Unblocked:
Playing "Hills of Steel" unblocked is not necessary because it is a mobile game that you can download and play directly from authorized app stores. Simply install the game on your mobile device, and you can enjoy it without any unblocking procedures.